3 Reasons Bitcoin Will Rally Through November
Summary
Historically speaking, November and December one year after the halving event is the most explosive part of the four-year Bitcoin price cycle.
All-time highs coupled with undervalued technical indicators such as monthly RSI and the Mayer Multiple point to higher highs.
On-chain indicators also point to a healthy network.
Ignoring Bitcoin's (BTC-USD) monetary properties under an era of financial repression, and ignoring Bitcoin's innovation as a peer-to-peer payment network that settles transactions in minutes compared to days in legacy financial institutions, there is a fundamental truth that became better understood with the invention of Bitcoin. There is value in scarcity. This is why a one-of-a-kind Wu-Tang Clan album recently sold for $4 million and why a market exists for collectibles. In fact, PlanB's stock-to-flow cross asset model demonstrates a linear relationship between scarcity, as measured by stock-to-flow, and market value.
In addition to programmed scarcity, Bitcoin has programmed cyclicality. If there is a linear relationship between scarcity and value, and Bitcoin becomes twice as scarce every four years, price will increase assuming constant demand. Given current trends in institutional and sovereign nation adoption, I believe demand will only increase from here.
I do not believe Bitcoin ever breaks its cyclical market structure derived from its four-year halving cycle. I do believe that each cycle becomes less pronounced over time with greater adoption. Though this is only conjecture, I believe the cycle eventually breaks with a whimper, not the bang of hyper-Bitcoinization.
In my opinion, current price action confirms that this cycle is playing out similar to the previous two. I believe we are currently in the most exponential phase of the four-year cycle. Previous cycle dynamics, technical indicators, and on-chain indicators all point to a strong November.
1) This Happened Twice Before
As previously stated, Q4 of the year after the halving event is the most exponential part of the four-year cycle. The three charts below demonstrate this. Bitcoin broke its previous all-time high in October during the 2013, 2017, and 2021 bull runs. Similar to the current cycle, 2013 witnessed a large summer consolidation. November 2013 was the largest monthly return in Bitcoin's history. I am not saying that Bitcoin will post a 400% return next month. However, historically speaking, an October all-time high after a summer consolidation in Q4 post-halving is a very bullish sign.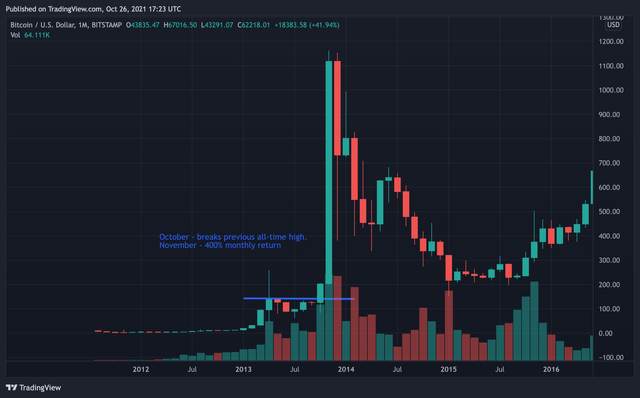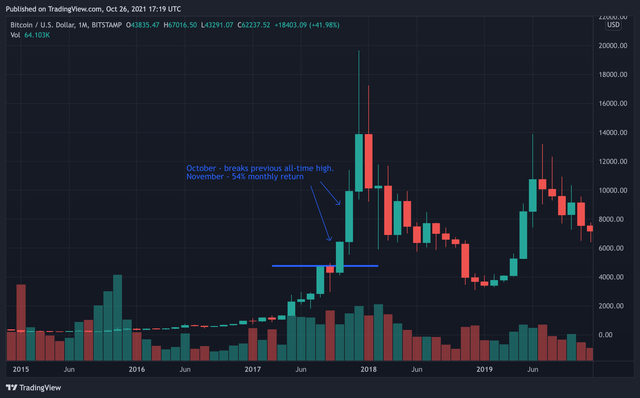 (Source: Author; Tradingview.com)
2) Technicals Are Not Overvalued
All-time highs are concerning when met with overheated technicals. However, this is not the current case. When analyzing equities, RSI above 70 indicates overbought conditions while under 30 indicates oversold. A testament to its price action following Metcalfe's Law, Bitcoin's monthly RSI has never dipped below 40 and will hover above 80 for several months.
Bitcoin's RSI topped at 95.6 in November 2013 and 96.6 in December 2017. After a strong Q1, monthly RSI reached 93.1 this year before a 50% correction that shook out much of the excess leverage. Bitcoin has since rallied to all-time highs with a current RSI of 71.8. On a momentum basis, as measured by monthly RSI, it still has room to increase.
The Mayer Multiple divides the current price by the 200-day moving average. The two previous cycles topped out at 6.4 and 3.7, respectively while 2.4 has always indicated overbought conditions. The current Mayer Multiple is 1.3. If this is playing out similarly to previous cycles, Bitcoin's monthly RSI and Mayer Multiple should be significantly higher by the end of this rally.
3) On-Chain Data Is Normal
One can easily find and verify transaction data because Bitcoin is a public, distributed ledger. This gives Bitcoin a set of metrics to analyze that do not exist in other assets, monetary or otherwise. This section examines two metrics - MVRV and HODL waves. Both metrics point to normal on-chain activity and a fair valuation.
MVRV stands for market value to realized value. This metric is the ratio of the total Bitcoin market capitalization by the realized capitalization, or the value of all coins at the price they last transacted on-chain. A high MVRV indicates that most investors are in profit because they last transacted at a price much lower than the current one. MVRV above four called the previous two market tops. This ratio is currently at 2.7 with all-time highs, signifying that the Bitcoin price needs to be significantly higher before investor profits are near the previous cycle high. In essence, this metric also confirms that the price has room to run.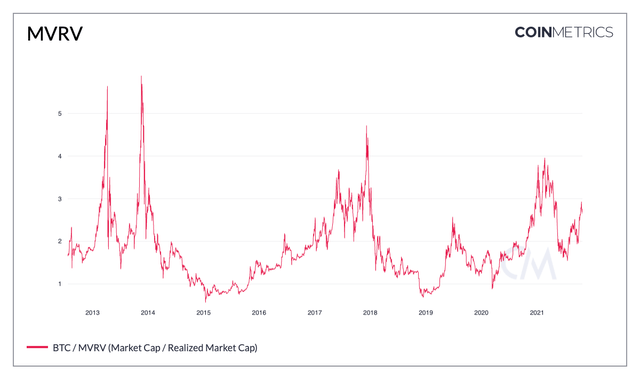 (Source: Author; coinmetrics.io)
Another frequently used on-chain metric is HODL waves. HODL waves represent the age distribution of Bitcoin's supply and changes with investor behavior. A high percentage of coins moving (i.e., being sold) in shorter time periods represents lower long-term conviction. These are denoted with sharp peaks in the chart as long-term holders are dumping supply back on the market. Low levels of movement on coins up to three months represent investors accumulating and are denoted with troughs in the chart.
The chart here shows the HODL waves with coins younger than 3 months. The 24-hour to 3-month HODL wave is currently at 15%. This matches the all-time low from the end of the bear market in 2015. In essence, there is maximum accumulation and minimum selling on the network that matches a bear market trough. This is a very bullish sign. Market peaks occurred with a minimum of 30% of Bitcoin's supply moving in under 3 months. We are not near those levels.
Conclusion
A confluence of metrics points to further price increase in Bitcoin through November. November was historically a strong month one year after the halving event. Technical and on-chain metrics also point to a continuation of the rally